Using Last Planner System® in Design
Recent research shows that rework can account for between 2 – 12% of total project costs and up to 50% of rework is a direct result of design changes. – Journal of Construction Engineering and Management
Benefits of Using the Last Planner ® System in Design
Significantly reduces design and pre-construction schedules: One team saved 17% of the allotted time in Design using the complete Last Planner® System – not just the pull planning aspect
Facilitates early team involvement and collaboration. The owner (all divisions and departments), designer, builder, major trades, QC and permitting/inspection authority get involved to improve the quality, completeness, accuracy and flow of design information
Simplifies and structures design management (breaks 3 Phases into 18-20 "stages" of 2-3 weeks). All activities, decisions, documentation and milestones are displayed for each design team member on the work plan boards (pictured below) with regular, frequent check-ins to keep everyone accountable and on task
Fosters a clearer understanding of other design team members' work, along with what and how long is required to complete an input, and who the downstream customer really is, through collaboration and good communication that grows from use of the work plan board
Helps teams clearly define Milestone and Phase Conditions of Satisfaction (what really is 50% DD?)
Reduces rework. The needs and deliverables of each designer are clarified at the wall ("I can give Y when I get X"). If the hand-off is not correct, the fix occurs there, stopping the design error and avoiding rework. One team reduced design issues by 53%
For medium and larger projects, it creates design clusters like civil, structural, MEPF, exterior, interior rough and finish to enable tighter coordination during construction and wed with Target Value Delivery
I've seen the Last Planner® System in Construction. How is it different?
The Last Planner® in construction is predominantly focused on physical work being completed reliably to enable the release the next activity and create flow (e.g. activity = drywall completed; predecessors = all MEP requirements and insulation in place). However, the Last Planner® in design focuses on timely hand-offs of information among designers, owners, builders, trades and permitting agencies.
During the traditional design process, documents and drawings are passed on in large batches (e.g. SD, DD, CD). However, the Last Planner® in design encourages far smaller batches of information, rather than full document sets, because the conversations and collaboration at the wall clarifies that others are often only waiting on one small piece of information in order to continue with their work (e.g. The structural engineer isn't waiting for the entire foundation plan, only a few calculated values). This accelerates the overall design process by enabling downstream work to take place by handing off information as it becomes available ("do work first that releases other work"), not when the next large batch is prepared. By drastically shortening the information feedback loop, design rework and waste are greatly reduced.
How can I increase the effectiveness of the Last Planner ® System in design?
Engage your team early. The owner, designer, builder, trades, and permitting authority (if they will participate) are the team players. It is critical to have the correct people in the room to make decisions
View the Last Planner® System as integral to Building Information Modelling (BIM) to create greater efficiencies. In initial pulls, use colored Post-It® notes that match Revit colors. These colors follow through into the construction phase with the respective trade partners
Consider using an inexpensive execution software such as LOD Planner® to quickly develop the required level of specification and element understanding (it also has a Last Planner® interface)
Collaboratively and clearly define Milestone and Document Conditions of Satisfaction to set clear targets. Maintain a robust, updated constraint log to anticipate and remove "boulders and rocks"
Continuously encourage open conversations and collaboration around "the wall" (in-person or virtual) during plan updates. This helps to quickly raise any issues that may impact the design process
When commitment deadlines are missed, use 5 Why and Root Cause Analysis to investigate and avoid reoccurrence, don't just accept and move on
Standing up around the work boards for daily huddles and weekly coordination meetings helps to keep everyone focused. Standing meetings finish more quickly. Start on time, end on time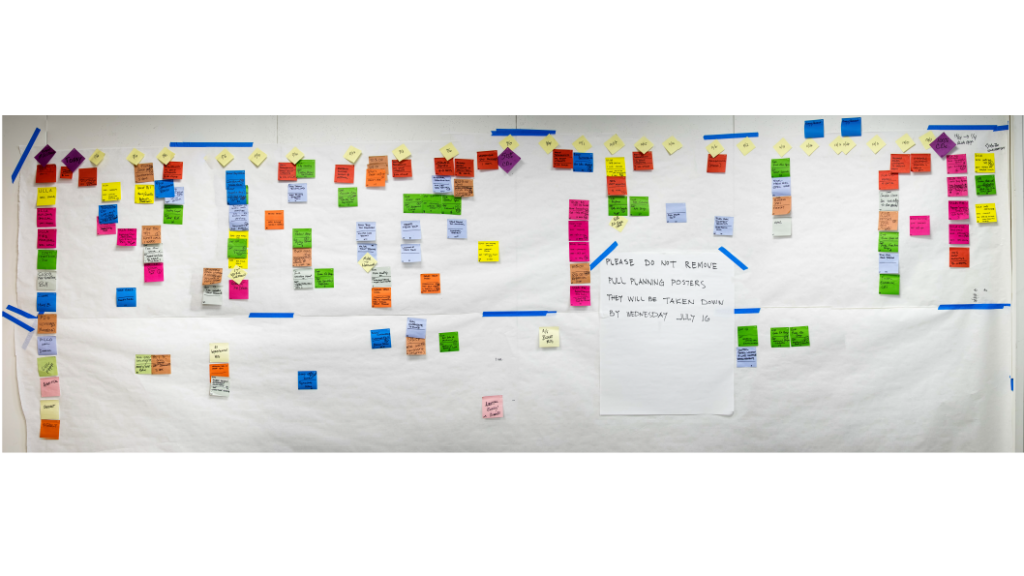 For more information see, Last Planner® System is the gateway to Lean behaviors